Type: Stocked in Dubai 🇦🇪, delivered to you in 12 days !
Universal All in One Travel Adapter
Spend

$50.00

to

FREE SHIPPING
$3

Delivery Charge All Over Lebanon 🇱🇧
The LENCENT Universal Travel Adapter with 4 Ports
All-In-one with 3 USB A & 1 USB C ports and a universal AC outlet, the LENCENT USB Wall Charger has a wide voltage range of 100 ~ 240V.

With the smart IC, it can intelligently recognize the device intelligently .

Built-in Smart Matching Charge, portable, lightweight and safe, this LENCENT travel adapter is easy to carry and will make a hassle-free vacation.
5-in-1 Travel Adapter Plug
1 AC outlet + 1 USB C port + 3 USB ports to charge 5 devices at the same time.
12W fast charging USB ports
With 3 USB ports and 1 Type C, you can charge tablets and smartphones such as phones, e-readers or tablets at high speed.
Extended compatibility
Compatible with smartphones, laptops, shaver, lights, hair dryer, straightener, curlers, toothbrush, curling iron and more. Ideal for electronics from abroad or hosting foreign friends at home.
Superior Security
Dual Fuse is keeping you and your family safe. Safety Protections are effectively upgraded to prevent over-pressure, over-charging, over-charging, short-circuiting, over-heating, overloading, etc.
Maximum power
Maximum power
With a maximum power of up to 1840watts (12A), the 4000W is ideal for charging most mobile phones.
Portable and Lightweight
The LENCENT universal travel adapter would be the best choice for charging devices!
LENCENT 65W GaN Universal Travel Adapter with 2 USB Ports 3 Type C Fast Charging Power Adapter EU/UK/USA/AUS plug for Travel
Product Description
【Universal Travel Adapter 】
6-in-1 Designed universal plug adaptor can be used over 200 countries, such as Australia, Canada, China, Europe, Japan, UK, USA, and New Zealand. LENCENT's travel adaptor accepts plugs of the following specifications: Type B / Type E / Type F / Type G / Type I .(Not suitable for Denmark, Italy, Israel, India, Switzerland or South Africa.)

【1 AC Socket+ 2 USB Ports+3 Type C】
This compact and lightweight 10A all-in-one travel adapter with 1 AC Socket&2 USB Ports&3Type C Ports can charge 6 devices at once. With the ultra portable design ( weight: 226g, size: 8.3x 8 x 6.3cm ),it can save a lot of luggage space, no need to carry extra adapters or sockets.

【65W GaN Fast Charging Technology】
Third-gen GaN semiconductor material offers a higher electric conduction with lower heat radiation, making travel adapter more powerful and much smaller.
Type-C 1 Output: 65W Max 5V/3A (15W)
Fast charging for Laptops,Tablet,Cell phone and so on.

【APPROVED SAFETY】
FCC, CE and ROHS approved with safety guarantee. Equipped with integrated double 10A fuse for overload protection and safety valve, it will protect people from injury if they directly touch live parts on the socket.


【AUTO-ID Technology for Intelligent Charging】 The LENCENT travel adapter with 2 USB Ports&3Type C Ports is capable of intelligently identifying connected devices and detecting and delivering optimum charging current, ensuring fast and safe charging.

【Good ideal for travel】
All-in-one worldwide travel adapter, interchangeable UK / US / EU / AUS plugs, Small size, many uses, easy to carry. Take it, let's take a trip that has no worries,. Note : it is not convert voltage!
Countries List for Each Plug Type
Type C:

Austria, Belgium, Bhutan, Brazil, Bulgaria, Burma (Myanmar), Cambodia, Cape Verde, Central African Republic, Chad, Chile, Congo, Croatia, Czech, Denmark, East Timor, Egypt, Equatorial Guinea, Ethiopia, Finland, France, Germany, Greece, Greenland, Guadeloupe, Guinea, Holland

Hungary, Iceland, Indonesia, Iran, Italy, Kazakhstan, North Korea, South Korea, Kosovo, Kyrgyzstan, Latvia, Lithuania, Luxembourg, Madagascar, Monaco, Mongolia, Morocco, Netherlands, Norway, Paraguay, Poland, Portugal, Romania, Russia, Serbia, Slovakia, Slovenia, Spain, Sweden, Tajikistan, Togo, Tunisia, Turkey, Turkmenistan, Ukraine, Uruguay, Uzbekistan, Vatican and more.


Type G:

Abu Dhabi, Bahrain, Brunei, Cyprus, Dubai, England, Falkland Islands, Gambia, Gibraltar, Great Britain , Grenada, Ireland, Northern Ireland, Isle of Man, Kenya, Kuwait, Macau, Malawi, Malaysia, Malta, Oman, Qatar, Saint Helena, Saint Lucia, Saudi Arabia, Scotland, Seychelles, Singapore, Somalia, United Arab Emirates (UAE), United Kingdom (UK), Wales and more.


Type I:

Australia, Argentina, China, Christmas Island, Cocos (Keeling) Islands, Cook Islands, Fiji, Kiribati, Nauru, New Zealand, Niue, Norfolk Island, Papua New Guinea, Pitcairn Islands, Samoa, Solomon Islands, Tokelau, Tonga, Tuvalu, Vanuatu and more.


Type A:

Anguilla, Aruba, Azores, Bahamas, Bangladesh, Barbados, Belize, Bermuda, Bolivia, Bonaire, Canada, Cayman Islands, China, Colombia, Costa Rica, Cuba, Curaçao, Dominican Republic, Ecuador, El Salvador, Guam, Guatemala, Guyana, Haiti, Honduras, Jamaica, Japan, Laos, Liberia, Marshall Islands, Mexico, Micronesia, Montserrat, Nicaragua, Palau, Panama, Paraguay, Peru, Philippines, Puerto Rico, Saba, Suriname, Thailand, United States of America (USA), Venezuela, Vietnam, Yemen and more.
Product Specifications
Brand : LENCENT

Model : PA048B-65W

Input : 100-250V~10A Max,2500W Max

USB-A1/A2 Ports: 5V/2.4A,12W

USB-C1 Port: 5V/3A,15W
20V/3.25A,65W MAX

USB-C2/C3 Port: 5V/3A, 15W

Total DC Output : 65W

Fuse Rating : 10A (MAX)

Interface : 2 USB Ports + 3 Type C +1 Universal AC Outlet

Compliant with: BS8546, IEC60884-2-5, UL498

Package Dimensions : 8.3*8*6.3cm

Item Weight : 226g
View full details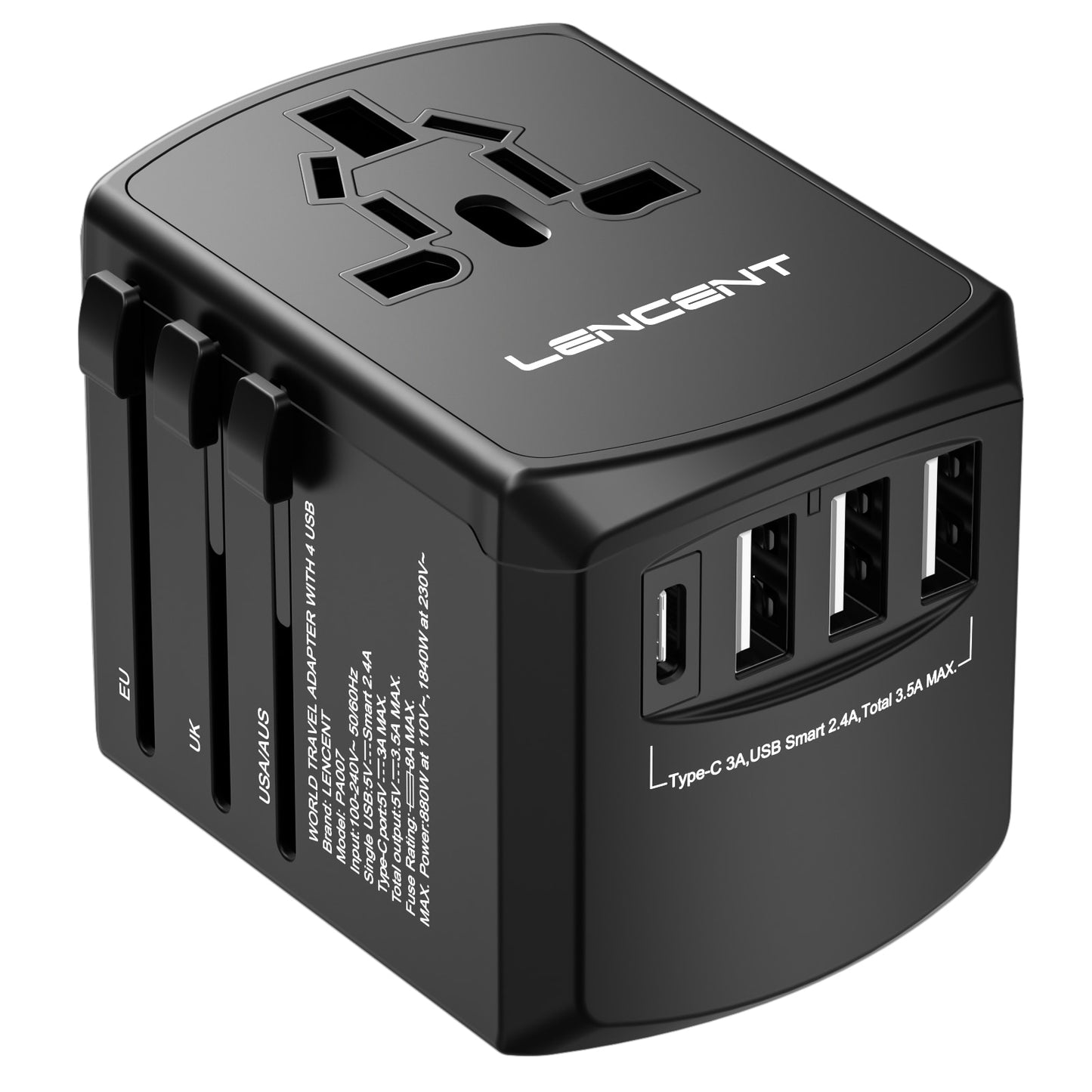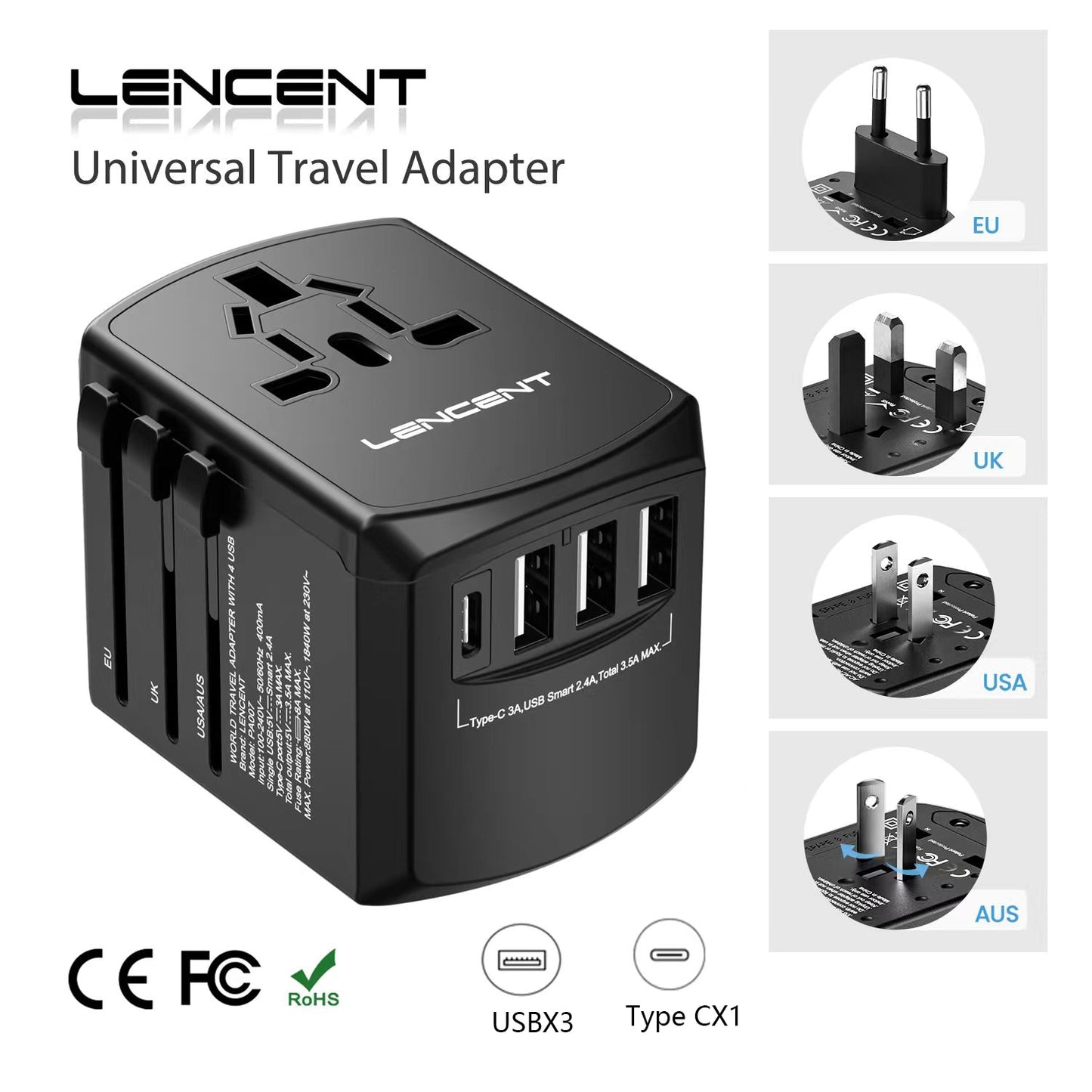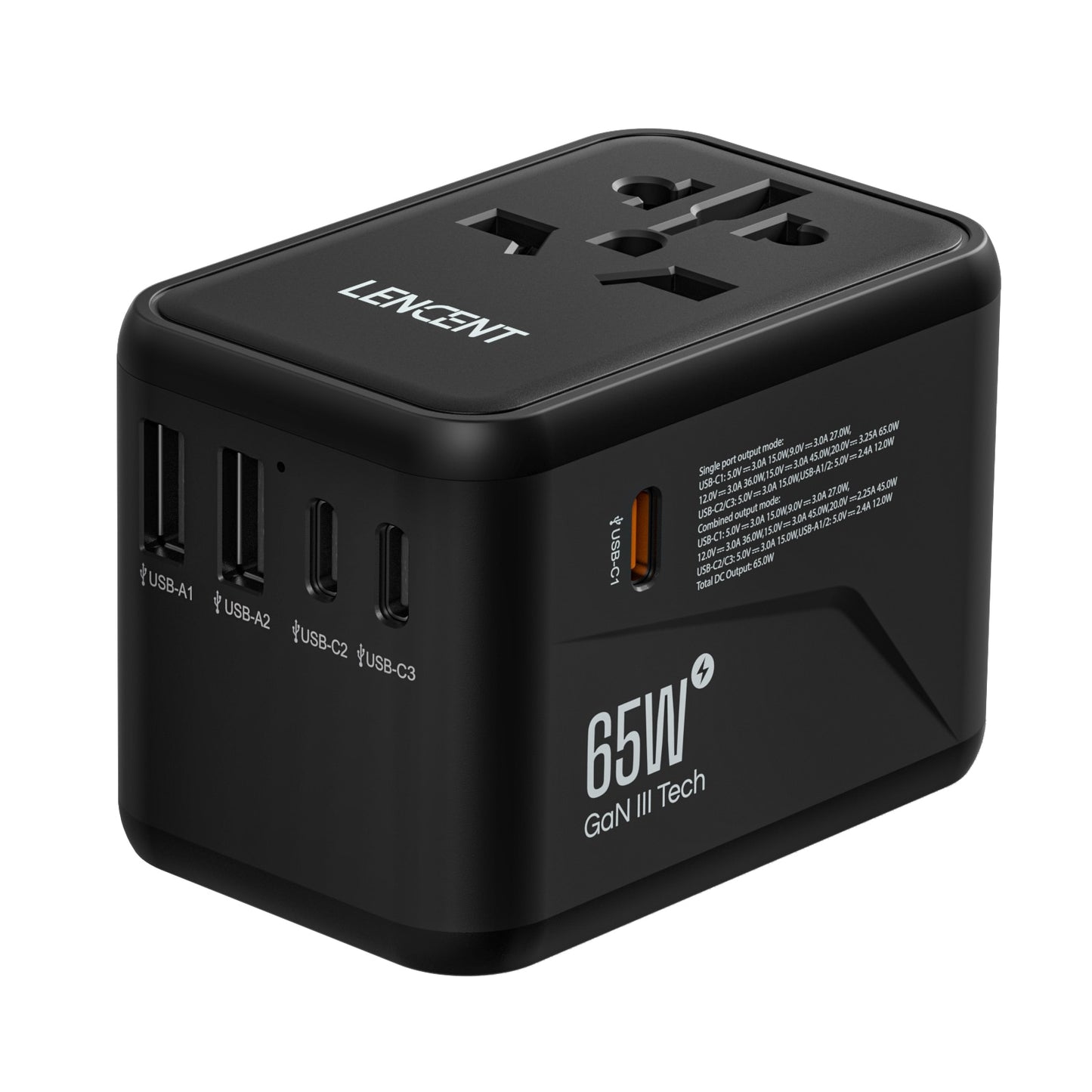 Universal All in One Travel Adapter