Type: Stocked in Lebanon 🇱🇧, delivered to you in 2 days !
Baseus Dual Cylinder Inflator
Spend

$50.00

to

FREE SHIPPING
$3

Delivery Charge All Over Lebanon 🇱🇧
Baseus High-speed Dual Cylinder Energy Pump Wireless Inflator
Dual cylinder with die casting alloy
Multiple Inflation and Ligt Modes
Smart LCD Digital Display
Accurate Tyre Pressure Measurement
Inflates Fast, Baseus First
√ Powerful: R-22 alloy dual cylinder for industrial-grade power.
√ Fast: 3 times faster, fully inflates a flat R195tyre in 3 and half minutes.
√ Safe: Built-in high-precision sensors for professional tyre measurement
Powerful Dual Cylinder
Dual cylinder made from die casting alloy, high-power motor with mechanical supercharging, easily pumping outhigh-speed airflow, no more pressure loss for your tyre. 
Fast Inflation Fully Inflates Flat Tyre in 3.5min
Fully inflates a flat R195 tyre in 3 and half minutes , and it can inflate 3 tyres with one full charge, better efficiency than wired inflators.
Mini and Compact, Easy to Carry around
Cordless design with convenient lanyard, easy to carry around.
Auto-Stop WhenFully Inflated
Preset the air pressure value to avoid over-inflation and false-inflation.
Easy and Accurate Tyre Pressure Measurement
Equipped with high-precision pressure sensors, monitors the current tyre pressure in real time with error no more than 0.1bar.
Pressure and Battery Level at a Glance
Smart LCD display shows air pressure and battery level, intuitive and convenient.
Applicable to Tyres and Balls
4 inflation modes to satisfy various inflation needs .Easy Inflation mode or Free mode, all up to you.
Emergency Light, Convenient to Use at Night
Emergency LED light comes really handy when you have a flat tyre in the middle of the night.
100-Days Crazy-Long Battery Life
Lithium power batteries with 10C discharge rate can easily last for 3 months on a full charge.
With Air Nozzles and Storage Bag
4 complimentary air nozzles and storage bag.
SPECIFICATIONS
Voltage: Wireless
Product Size: 23cm x 6.4cm x 9.9cm
Product Feature 5: Multiple inflation modes for cars, motorcycles, bicycles, balloons, ball, etc.
Product Feature 4: LCD smart display for battery level
Product Feature 3: Real-time detection for tire pressure
Product Feature 2: Preset for auto shut off
Product Feature 1: High pressure inflation with dual cylinder
Power: 250W
Output Power: 22-Dual Cylinder
Origin: Mainland China
Model Name: Baseus Super Energy Wireless Car Air Compressor
Material Type: ABS
Item Width: 9.9cm
Item Weight: 1.32kg
Item Type: Pumps
Item Length: 23cm
Item Height: 6.4cm
Item Diameter: 23cm
Input Voltage: Type-C 5V/3A, 9V/1.5A
Inflation Pressure Range: 0.2-150PSI
Brand Name: BASEUS
Battery Capacity: 6000mAh
View full details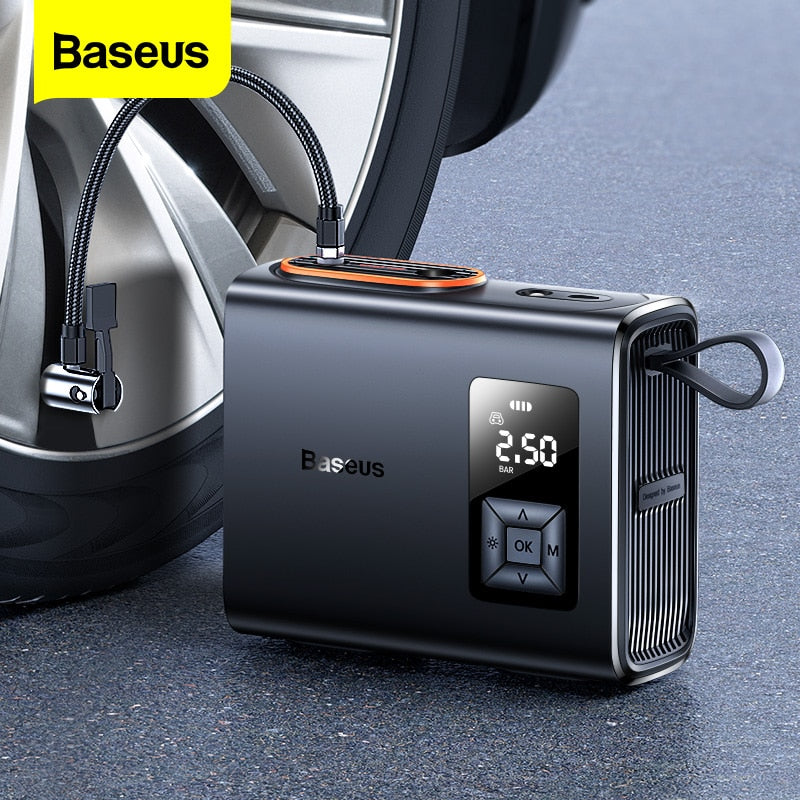 Baseus Dual Cylinder Inflator